Leader on the production of the most complete range of marine antennas such as vhf, ssb, am-fm, tv, satellite. Find the marine antenna for you.

Stay connected along the coast: weBBoat 4G, the innovative Coastal Internet" antenna system, allows you to surf the web at high speed up to 20 miles



For over 30 years we produce the most complete range of marine antennas, recognized as the best choice by the most important boat builders and by millions of boat owners.
PROMARINE
Commercial Marine Antenna
We produce a wide range of extremely rugged marine antennas, specifically developed for all commercial boats, paying attention to use only the high quality materials.
GLOMEX MOBILE
Mobile Antenna

Satellite and Terrestrial TV antennas developed for motor-homes, caravans, trucks and bus: the quality of materials and the attention to the details ensure exceptional performances.




WEBBOAT 4G PLUS
The innovative DUAL SIM 3G/4G/Wi-Fi coastal internet integrated antenna system that allows you to surf the internet with your iPhone, Smartphone, Tablet and PC through an high speed wireless connection throughout your boat up to, approximately, 20 miles from the coast.
.
WEBBOAT 4G PLUS
BUY ONLINE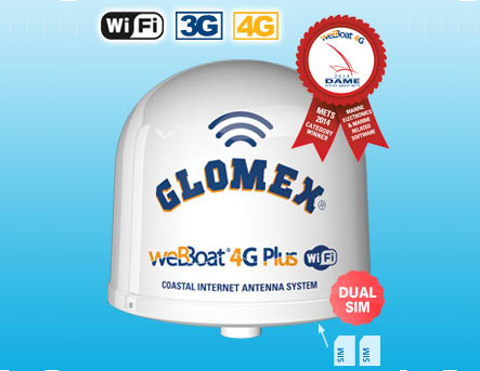 WEBBOAT 4G PLUS - THE NEW GLOMEX DUAL SIM 4G/WI-FI COASTAL INTERNET ANTENNA SYSTEM FOR SURFING THE INTERNET UP TO 20 MILES
weBBoat 4G PLUS is the first, unique and award-winning 4G/3G/Wi-Fi DUAL SIM integrated system to surf the Internet, ensuring stable and high speed connections up to, approximately, 20 miles from the coast. weBBoat 4G PLUS is equipped with 2 4G Diversity antennas that receive the Internet signal and creates a personal and safe WiFi network inside the fibreglass boat, that can be used simultaneously by 32 different and authorized devices. Moreover, if a known Wi-Fi network is present and available (for example the marina Wi-Fi), weBBoat 4G PLUS will automatically connect to it to limit the internet fees. weBBoat 4G PLUS is a PLUG & PLAY product as 4G GSM module is integrated inside the dome and, for its operation, only needs a 12/30 Vdc power cable and one/two SIM cards for surfing the Internet to avoid unwanted roaming costs; all this makes weBBoat very easy to install. weBBoat 4G PLUS is also easy to use thanks to the new free App Glomex, available for iOS and Android.
WeBBoat 4G PLUS is equipped with:
• DUAL SIM the external slot for TWO Micro-SIM Cards allows you to choose the best internet operator in the area where you are sailing and you can avoid roaming cost
• New free weBBoat Plus App with AUTOMATIC FIRMWARE UPDATE to always have the best performance without any need to contact technicians;
• 4 Diversity High-gain and wide band 4G antennas covering MORE INTERNET BANDS
• New 2 more powerful Wi-Fi antennas - double Wi-Fi range - to receive the external Wi-Fi signal, such as from the marina, restaurant..;
• 1 4G/3G/WiFi built-in faster fuctions router specifically developed for the marine environment to have a personal and safe Wi-Fi network on the boat, that can be used by up to 32 different devices (iPhones, Smartphones, Tablets and PCs);
• Automatic switch from 4G to Wi-Fi to limit 4G fees;
• Automatic switch of the SIM Cards to reduce the roaming cost.
For more information please contact us sales@glomex.it
weBBoat 4G has also been tested offshore in Australia with EXCELLENT results, read the article.
DOWNLOAD THE MANUAL
Installations:
Sail Boat
Power Boat
Big Yacht
Watch the weBBoat video on
How weBBoat 4G Plus works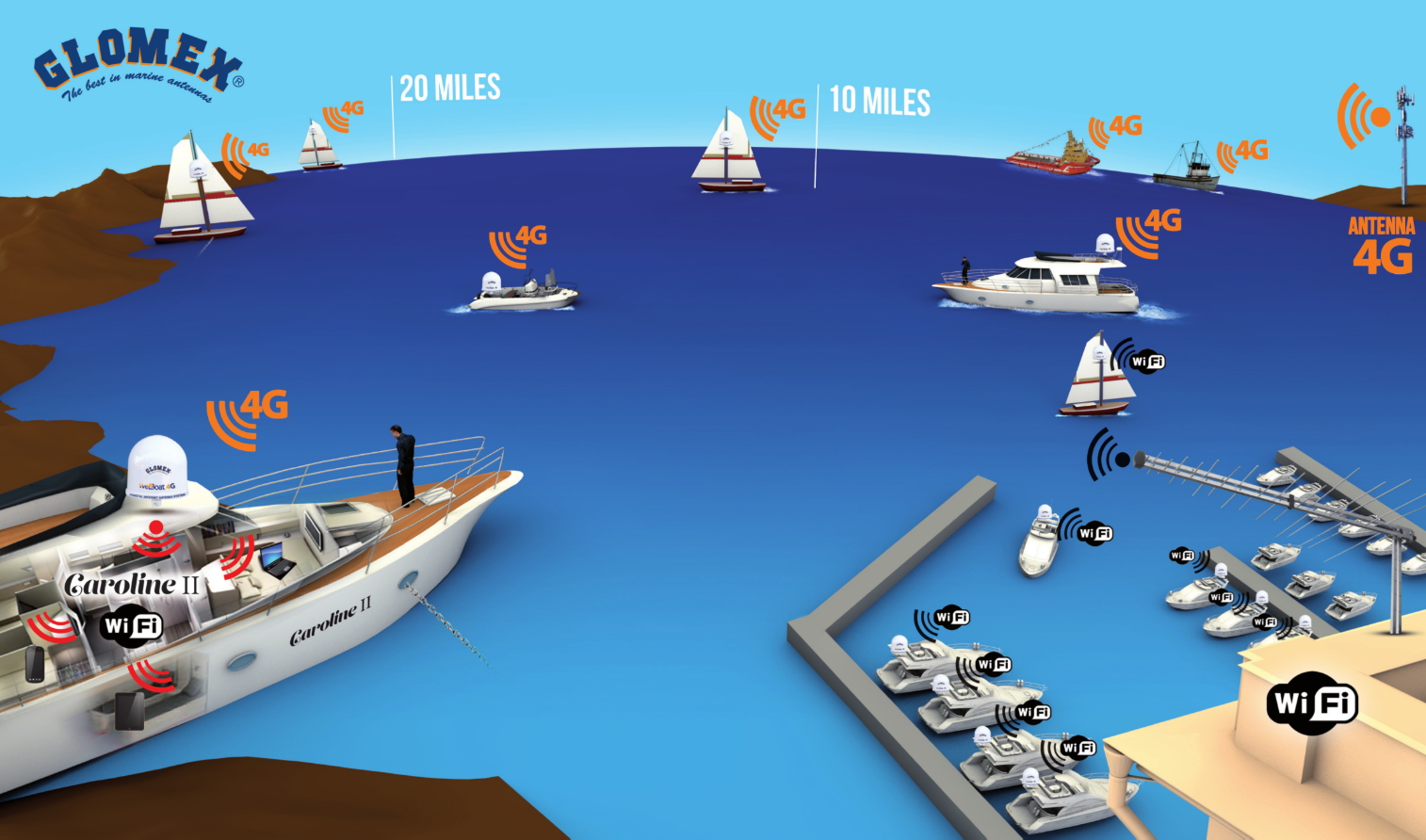 new weBBoat 4G Plus App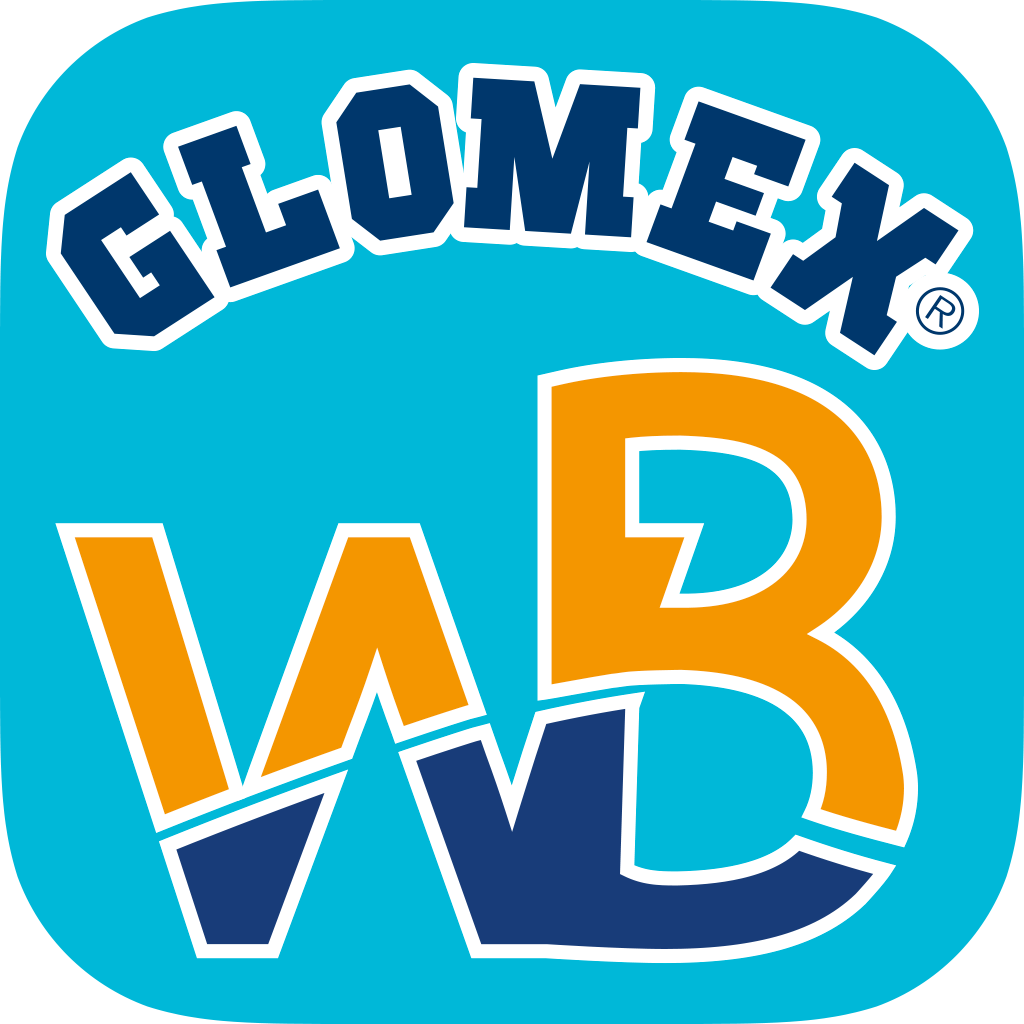 Technical Specifications
Antenna dimensions (diam.x H): 250 x 300 mm / 10x12"
Antenna weight: 1,2 kg / 2,65 lb
DUAL SIM system
Automatic swicht of the SIM Cards
Automatic swicht Wi-FI registered networks to 4G.
4G backup WAN function
LTE 4G up to 100 Mbps in download and 50 Mbps in upload
DC- HSPA+ up to 42 Mbps in download and 5.76 Mbps in upload
Power Supply: 10/30 Vdc
Average Consumption: 150mA
General Feautures
LTE FDD bands: B1/B2/B3/B5/B7/B8/B20
DC- HSPA+/HASPA+/HSPA/UMTS: 850/900/1900/2000 MHz
GSM/GPRS/EDGE: 1900/1800/900/850 MHz
Power Class 3 (23 dBm) for LTE FDD
Power Class 3 (24 dBm) for UMTS
Power Class E2 (26 dBm) for EDGE 1800/1900 MHz
Power Class E2 (27 dBm) for EDGE 850/900 MHz
Power Class 1 (30 dBm) for GSM/GPRS 1900/1800 Mhz
Power Class 4 (33 dBm) for GSM/GPRS 900/850 Mhz
Data
Mode LTE: DL 100 Mbps - 50 Mbps UL
DC-HSPA+: DL 42 Mbps - 5.76 Mbps UL
WCDMA PS: DL 384 Kbps - 384 Kbps UL
EDGE: DL 236,8 Kbps - 236,8 Kbps UL
GPRS: DL 85,6 Kbps - 85,6 Kbps UL
Complies with IEEE 802.11n, IEEE 802.11g and IEEE 802.11b wireless
Complies with IEEE 802.3 and IEEE 802.3u Ethernet standards - I Access point for connecting wifi
3 Ethernet ports
4 Diversity (high) performance antennas
2 High Gain Wi-Fi antennas
SMS reboot function
Andorid and iOS App for an easy control
Easy installation require only power supply connection 12/24V
UV resistant Dome





RHEA: THE BEST CHOICE FOR WATCHING HD CHANNELS DVB-S2 - FULL HD
The Glomex TV satellite antennas are refurbished in technology and performance with the introduction of DVB-S2 technology: the Second Generation of Digital Video Broadcasting. This new technology allows to receive the SAT TV signal in perfect quality and to watch all FULL HD TV channels.
Rhea is the new Glomex satellite TV antenna developed to offer the best performance in receiving HD TV signals thank to a 470mm (18") parabolic dish and low energy consumption (12 Vdc – 1,5 A/h). V8100S2 is a gyrostabilized antenna, equipped with a new HPD (High Performance Dish) parabolic dish combined with the new software for signal research and the innovative noise reduction system STO (Silent Tracking Operation). Rhea is characterized by new mechanic and electronic elements. The antenna have an elevation range (-9° / +81°) developed to increase its reception of satellite TV signals even in North Europe. Moreover, the new electronic elements allow the compensation of quality losses due to satellite multiplication on the terrestrial orbit whilst transmitting on frequency and ensure a total silence factor. Easy to install, thanks to a single coaxial cable (SCC) connecting the antenna directly to the TV-set. Rhea, with its 3 preloaded satellites (ASTRA1, ASTRA2, HOTBIRD) easy selectable on the control unit, can be swiftly updated by downloading new satellites or free software updates directly on www.glomex.it
Satellite coverage area
Installation:
TECHNICAL SPECIFICATIONS
| | |
| --- | --- |
| ANTENNA DISH DIAMETER | 470 mm (18'') |
| RADOME DIMENSIONS | 500 x 560 mm (20x22'') |
| ANTENNA WEIGHT | 8 kg (17,6 lb) |
| TRACKING RATE | 50° sec |
| ANTENNA GAIN | 35 dB (12 GHz) |
| DISH TYPE | Prime Focus + HPD |
| POLARIZATION | Linear (H + V) |
| LNB FREQUENBCY RANGE | 10,7 - 12,75 GHz LNB universal |
| RADOME TYPE | U.V. resistant |
| POWER REQUIREMENT | 12 Vdc (1,5 Ah) |
| OPERATING TEMPERATURE RANGE | -20° +55° |
| AZIMUTH TURN RANGE | Unlimited |
| FULL ELEVATION RANGE | -9° / +81° |
| TYPE OF STABILIZATION | gyro on 2 axis + 3° axis by interpolation |
| SATELLITE IDENTIFICATION | NIT (Network Information Table) |
| MIN EIRP | 49 dBW |
| FUTURE UPGRADES READY | Yes |
| DECODER OUTPUT | 1 output |
| AUTOSKEW OPTION | No |
| CONTROL UNIT | 3 satellites loaded: ASTRA1 19°E - ASTRA2 28°E - HOTBIRD 13°E |